Growing a Business
Companion to the PBS Series by the Same Name
Nearly everyone harbors a secret dream of starting or owning a business. In fact, 1,000,000 businesses start in the United States every year. Many of them fail, but enough succeed so that small businesses are now adding millions of jobs to the economy at the same time that the Fortune 500 companies are actually losing jobs.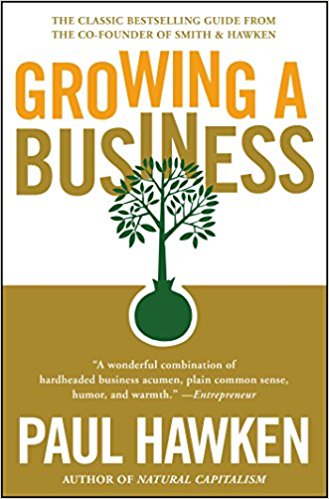 Paul Hawken—entrepreneur and best-selling author—wrote Growing a Business for those who set out to make their dream a reality. He knows what he's talking about; he is his own best example of success. In the early 1970s, while he was still in his twenties, he helped Erewhon to scale up and become the largest distributor of natural foods. He also co-founded Smith & Hawken, the premier mail-order garden tool company. And he wrote a critically acclaimed book called The Next Economy about the future of the economy.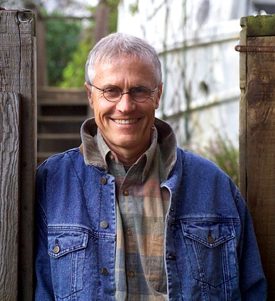 Using examples like Patagonia, Ben & Jerry's Homemade Ice Cream, and University National Bank of Palo Alto, California, Hawken shows that a successful business is an expression of an individual person. The most successful business, your idea for a business, will grow from something that is deep within you, something that can't be stolen by anyone because it is so uniquely yours that anyone else who tries to execute your idea would fail. He dispels the myth of the risk-taking entrepreneur. The purpose of business, he points out, is not to take risks but rather to get something done.
"The purpose of business is not to take risks but rather to get something done."

Paul Hawken
(Excerpts from "Chapter 8. The Lemonade Stand" in Growing a Business by Paul Hawken.)
". . . running a business does not require a brilliant mind . . . . another quality is more important than brainpower for running a business: "tradeskill," the most accurate term for the attribute I know of, coined by Michael Phillips and Salli Rasberry in their book Honest Business.
"Tradeskill is really the set of skills that spell the difference between success and failure in business. It is the knack of understanding what people want, how much they'll pay, and how they make their decision. It is knowing how to read the signals of the marketplace, how to learn from those signals, how to change your mind. Tradeskill gives you a canniness about how to approach a given product, market, or niche. . . .Tradeskill becomes a sixth sense that gives those who have it the ability to make decisions quickly, cutting through months of meetings, brainstorming, market studies, and bureaucratic shuffling. Tradeskill is knowing how to handle money, how to buy and how to pay.
"Tradeskill cannot be learned from this or any other book. It is not for sale in the best M.B.A. programs in the country. 
"Most of us know whether we possess tradeskill. If you haven't got it–if you're uncomfortable haggling at a street market where the prices are negotiable, as an example, or if you're uncomfortable with strangers–the best thing to do is recognize this, just as you have recognized you're not a nuclear physicist and plan your life and career accordingly. Going into business is not something to take lightly.
"Consider going into business with a partner who has [what you lack]."
Persistence
Facing the Facts
Minimizing Risks
Hands-On Learning
Ability to Work with Numbers (or, at least, no fear of them)
Begin at the Beginning.
Expect Uncertainty, Expect Fear.
Business Tests Character.
Business is Play.
Make it Fun.
Business is Practice.
Too Much Money is Worse than Too Little.
It's just us. There is No One in Charge.
Business Will Always Have Problems (aka Opportunities).
Size is No Longer an Advantage
Consumers are Becoming Customers
Plan to Fail!
Chapter 1. Something You Live to Do
Chapter 2. Be careful, You May Succeed

Begin at the Beginning
Entrepreneurs are Risk-Avoiders
Business is Frightening
Business Tests Character
Business is Play
Business is Practice
Too Much Money is Worse Than Too Little
No One is In Charge
Business Will Always Have Problems

Chapter 3. Small, Fat, and Happy

The Informative Economy
Size is No Longer an Advantage
Consumers are Becoming Customers

Chapter 4. If it's a Good Idea, It's Too Late

Re-create Something That Has Been Lost
Enhance the Commonplace
Raise the Ante
Reveal a Business Within a Business
Restore a Business
Be the Most Complete
Be the Low-Cost Provider
Being Rather Than Doing
Make if Fun

Chapter 5. The Art of the Incremental

Don't Plan Someone Else's Business
The Plan is Not the Business
Plan to Learn
Plan to Fail
Business is the Art of the Incremental
Plan to Stay
Plan to Succeed
Writing the Plan

Chapter 6. The Company You Keep

Sole Proprietorships
Partnerships
Corporations
Who Should Own Your Company?
Be Divisible
Don't Pay Retail
The Living Structure

Chapter 7. Money

Start Small
Finance Before You Need the Money
Borrowing From Friends
The Peru Syndrome
Borrowing from the SBA
Borrow A Lot or None
Consistent Growth
Informed Investors
Cultivating New Investors
Creating a Market
No Surprises
Raising Money in Advance

Chapter 8. The Lemonade Stand

Luck
Facing the Facts
Minimizing Risks
Hands-On Learning
Working with Numbers

Chapter 9. If You Meet the Buddha on the Road, Sell Him
Chapter 10. You Are the Customer, You Are the Company

You Are the Customer
You Are the Company
Customers Want a Long-Term Relationship
If I Doesn't Feel Right, Make it Right
A Job Isn't Done Until It's Checked
Do It Once and Do It Yourself
When In Doubt, Ask. When Not In Doubt, Ask.
A Mistake is Not a Mistake. It Is a Chance to Improve the Company

Chapter 11. In Good Company

Hire the Person, Not the Position
Hire People You Look Up To
Don't Use Personnel Managers or Headhunters
Create Hybrid Vigor
Don't Grow Faster Than Your Employees Can
5-15 Reports
Go For Brokes
Titmouses and Robins

Chapter 12. The Verger
Acknowledgements
Index