The Briarpatch Book
Edited by Michael Phillips and Salli Rasberry
Experiences in Right Livelihood and Simple Living
"Briarpatch" is a word that conveys a set of values:
openness
sharing
serving people through business
Starting in 1975 we published a magazine/journal called The Briarpatch Review which gave members of the Network and our friends a glimpse into the lives and businesses of other Briars. The Review revealed how a Briar's life is an expression of his or her personal values and included much of what we were learning about life and business, as we learned it. Our successes and failures, how we grew, how we helped and supported one another, are all included, as well as many examples of the ingredients that have made our lives happy and our businesses fun.
In 1978 we published The Briarpatch Book, a collection of eight issues of our "in-house" magazine/journal. We saw the book as a flag we raised to find people like ourselves.
At the time, the Briarpatch consisted of several thousand people throughout America who recognized and found each other through shared interests. What we had in common was our business values and the joy and excitement we felt about our work. Many hundreds of us in the San Francisco Bay Area already knew each other on a face-to-face basis through the Briarpatch Network, and our community has continued through cycles of surviving and thriving.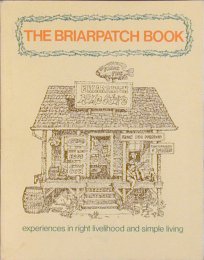 Then as now, our concern as "Briars" is the celebration of life and business. We find joy in business, and our businesses are gems radiating the excitement of our lives. The Briarpatch is a network of small-business people who have three values in common:
We are in business because we love it.
We find our reward in serving people rather than amassing a lot of money.
We share our resources with each other as much as we can, especially our knowledge of business.
We share:
Management and marketing information
Legal and technical know-how
Names of suppliers
The general practices that work and don't
We are committed to keeping our books and financial information open to our customers, employees, friends, and relatives. They know how much we earn, how much our supplies cost, and anything else we want to share about the workings of our businesses.
If any of this sounds like you, then you are a Briar too! Welcome, Briar!
(Based on excerpts from the Introduction to The Briarpatch Book. To access the complete Introduction, go here.)